D115 Dutch Windmill Creature in Summer folding card
Stock:

In Stock

Model:

D115

Weight:

0.10kg
Chia DNA
《Chia DNA》D115 卡片 Windmill Monster in Summer
★A6 Folding card.
★Use for Birthday card, Baby Birth card, Gift card, etc
★Paper material: Linen paper with pearl white, 250gsm
★With an envelope
▼Dutch Windmill Creature in four seasons
Dutch Windmill Creature changes its emotions and appearances because of the weather in different seasons.
The Windmill creature is mostly happy, smiling, laughing and having nice and colorful appearances because of the beautiful spring scenery and nice summer weather. When the Autumn comes, Windmill creature will activate its angry mode and its face will turn red as Dutch storm in Autumn. It is frizzing and gloomy in winter in Netherlands, so its look will change to icy blue and it will keep saying, it is so cold…
★品牌故事: CHIA DNA★ Introduction: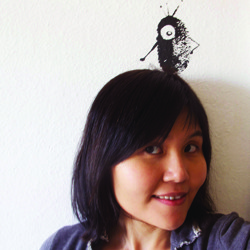 Hello!
My name is Yu-Chia Huang. I am a Taiwanese illustrator and artist who lives in the Netherlands. I love to draw all kinds of different creatures from my imaginary world (like monsters and cute robots) and to explore different art styles and design fields.
I grew up with Japanese animation, like the works of Kon Satoshi, Hayao Miyazaki. They opened the door to my imagination. Sometimes I even wish that the creatures from those animations would be surrounding me, how nice would that be! When I was a teenager, I got to know western art and European artists, like Salvador Dalí, René François, Guislain Magritte, Jheronimus Bosch, etc., and their art helps me to broughten my views and expand my borders. These experiences made my art more rich and my illustration more interesting.
I have explored many different fields, like graphic design, illustration, game art, ceramic making etc. Now it is the exciting moment to combine them, and create something wonderful. Let's see which kinds of sparkles it will bring us!